CarVenience Car Rental Aruba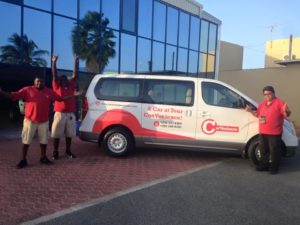 CarVenience Car Rental Aruba was founded in May 2015 with a small team of dedicated members with operations beginning in September of the same year. The teams mission was clear: to revolutionize the car rental market in Aruba. With a simple slogan, CarVenience differentiates itself from the other Aruba car rental companies: A Car at Your Convenience!
CarVenience main goal is to cater to the needs of Aruba visitors instead of corporate policies. Something we unfortunately see happening all around the island. Our main thought was how can we better the Aruba car rental industry? What would we need and want in the process of car rental? Our answer: The right product with flexible rates in the hands of the most service oriented people. CarVenience team of dedicated members consists of the best in the car rental business who are driven and empowered to take care of our clients.
The formula and chemistry within the team proofed successful and CarVenience acquired a new fleet of car rentals from Aruba's number one brand: Hyundai. All cars are no older than 12 months ensuring Aruba cars with the latest international safety standards. Our Aruba car rental grew from 5 to 35 vehicles within 6 months.
But this is just the beginning for CarVenience. We are at the forefront of the Aruba car rental companies. All our clients can be confident that our team's sole mission is: "YOUR SATISFACTION"
Learn more about our Aruba cars Fleet here and see where our rental cars Aruba fleet can take you around the island here with the latest tips in Things to Do.